The right product didn't exist
So we built it ourselves
We were looking to solve a problem back in 1998. And when we didn't find the right product that could help us, we built it ourselves.
We are MATESO. Solution seekers. Risk lovers. Got-your-back kinda people.
We work with enterprises, small businesses, and teams, to help secure their business data.
Our software has been meticulously researched, designed, and developed by industry experts in Germany.
And it continues to evolve, every day.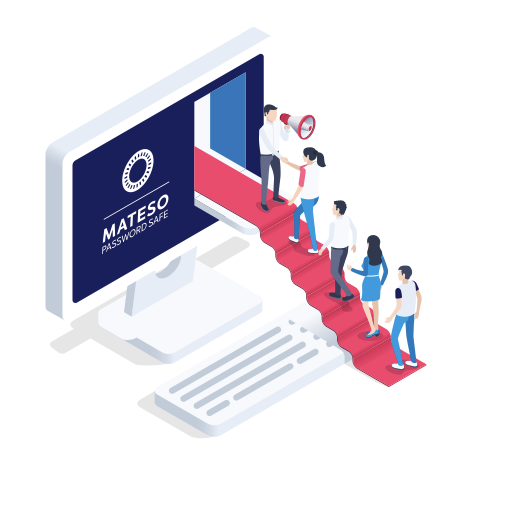 We are MATESO
Complex problems mean we are all the more involved to find the best solution. With a standing invitation to try everything under the sun, our team of curious minds love to do just that.
Between work, leisure, and making any grey area in between a little less grey, we share experiences wholeheartedly and embrace change and changemakers with open arms.
Ready to join your mates at MATESO?
What drives us
Cyber threats are ubiquitous. The cybersecurity of people, employees and entire companies is under constant threat. We want to enable companies to protect all their trade secrets through strong passwords. Our innovative and state-of-the-art software is designed to be used by everyone. Thus, companies are protected from cyber-attacks in the long run through secure and intelligent password management.
"Your digital world is safe"
"With our powerful, but easy to use & best in class enterprise security solution everyone loves to protect all secrets in any situation."
What we believe in
Our corporate values shape our corporate culture and show how we deal with each other and with our partners and customers.
Or in short: they show the DNA of MATESO.
1. We are one team:
A team is something we feel and live every day because we grow, win, learn and play as a team.
2. Proud to be unique:
Being different is how we stand out – with our ideas, our perspectives, and our strengths.
3. Learning and growing:
We encourage each other to try new things, learn from mistakes, and do better in the future.
4. Trust is our currency:
Our priority is to live up to the trust our employees, our customers, and our partners place in us.
5. Transparent communication:
Transparent sharing of knowledge, ideas, opinions are integral to being a collaborative team.
6. Embracing change:
Learning from our experiences, we embrace opportunities to try new things, to grow, and to evolve.
Follow us for your daily dose of MATESO